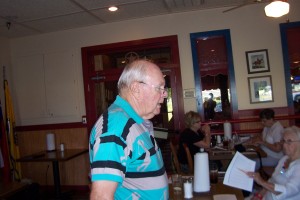 Our programs: Dinner at 5:30 and program following: same place, Spring Creek BBQ, 317 E Hwy 377.
Note to all Speaker Sponsors: We will have the speaker's reception at 4 pm in the Lobby of The Plantation Inn where we will have an opportunity to visit personally with Ed.
DUES: If you have not done so please bring your dues to the meeting. It's a real bargain: $25 single, $35 family and $100 speaker sponsor. We have scheduled a full line-up through December, 2019.
Ray Ashley, Chm
_________________________________________________
I received this message on our contribution to the Havelock Cemetery. I am proud of our organization's efforts, however small, for this worthy cause.
Ray Ashley
From Nathan Jennings Houston Civil War Round Table:
Ray, Please find attached a copy of correspondence from myself to the McGavock Confederate Cemetery in Franklin, Tennessee, summarizing the success of the Houston Civil War Round Table and other groups in the raising of approximately $2000 to replace the eighty nine gravestones of the Texas Confederate soldiers that are buried there.We gratefully appreciate the efforts and contributions from your organization that resulted in the success of this endeavor.
Nathan C. Jennings

Elected board member and former president of the

Houston Civil War Round Table

Cell 713-231-8799
____________________________________________
September 30, 2017
We are privileged to have David   Dixon from California who has authored numerous books on Civil War history to speak to us on The Lost Gettysburg Address. Many of you have never heard of Kentucky native Charles Anderson who concluded the day's events at Gettysburg where Lincoln made his nationally acclaimed and historically important address at the cemetery dedication.
Anderson was a Kentucky slaveholder who sacrificed everything in order to help Lincoln save the Union. He was arrested and eventually escaped from a Confederate prison here in Texas; became Lincoln's emissary to Great Britain and nearly died from wounds received while commanding a regiment at Stones River prior to the Gettysburg Campaign. Anderson helped defeat the notorious Copperhead Clement Vallandigham and, after the war became governor of Ohio; a truly amazing person! His speech, lost for decades and recently discovered in Montana is analyzed by our speaker and explains it along with the other speeches of the political consequences of that day in history.
David Dixon earned his MA in history from the University of Massachusetts in 2003. He has published numerous articles in scholarly journals and magazines. He has spoken at the 2016 Sacred Trust Talks in Gettysburg and has appeared on numerous radio shows. His most recent book; "B-List History" covers stories about African Americans, women and Union men in the Civil War South.
Our speaker is a sought-after speaker and we are fortunate to have him come to our community. Let's come out and show David some "down-home" Granbury hospitality. See ya'll on Monday night.
Ray Ashley, Chm
_______________________________________________________
June 7, 2017
Our fall, 2017 speaker's schedule has been confirmed and I wanted to advise you of the agenda as well as write you about an exciting new opportunity for our club.
The speakers:
         September 11: Richard Selcer, "Hurry Home, Soldier"
October 9: David Dixon, "The Lost Gettysburg Address"
November 13: Allen Mesch; "Teacher of Civil War Generals"
I hope I have aroused your interest in omitting the bios of the speakers as well as a synopsis of the actual talk; That will come later!
I received a call from Jan Brand, a writer who wants to do an article on our CWRT for a local magazine. She indicated that the slant of her article would be to introduce some human interest into her article. Jan asked me to contact the membership and find out who, among our group have ancestors who fought in the War. She would introduce that information into her article. We would eventually meet with her and she would interview those of you who have such ancestors. Perhaps we could use some of our regular program and have those of you who wish to share any information about your Civil War ancestors make a short talk on him. The first step would be to respond to me and provide some basic facts on that ancestor; who, what, where, how and when! If we have enough respondents, I will contact Jan and arrange for a meeting with each of you. She wants to do the article sometime soon so as quickly as you are able respond to this inquiry. Send the information directly to me at: [email protected].HAVE A GREAT SUMMER!     Ray Ashley
_________________________________________________________
Meeting Announcement
The final Spring meeting of our Granbury Civil War Roundtable will take place on 8 May 2017 at our usual place, Spring Creek BBQ, with dinner and fellowship at 5:30 pm followed by the program at 6:30 from Mark Christ, historian and author. His most recent book is: "Civil War Arkansas 1863"and the topic of his talk with us is his most recent research on the Battle of Arkansas Post.
The Arkansas River Valley is one of the richest areas of the southwest and served as the economic engine for the entire state. Important not only for it's economic impact but as a means of transportation, the river served as an artery for troop movement. Whoever owned Arkansas Post owned the entire river and, perhaps, the entire state of Arkansas. The battles there were overshadowed by those in the East as well as Vicksburg but the effect of Confederate defeat at Arkansas Post spelled doom for the South in Arkansas.
Mark Christ is currently the Community Outreach Director for the Arkansas Historic Preservation Program which he joined after eight years as a professional journalist. He has authored and co-edited numerous books on the Civil War era, some of which have intriguing titles such as; "Getting Used to Being Shot At" and "All Cut to Pieces and Gone to Hell."  He has received numerous awards, one of which was from the prestigious Civil War Trust. Mark has a busy speaking schedule and we are honored to have him in Granbury. Your chairman has heard him speak on several occasions and you will be delighted with this program!
For those of you who have not paid dues, we will still be pleased to accept them at this meeting. It's a real bargain, only $25 single, $35 family and $100 speaker sponsor. Dues are used to pay speaker travel expenses, meals as well as provide a modest honorarium.
See ya'll on the 8th at Spring Creek
Ray Ashley
____________________________________________________
Next Meeting: April 10, 2017
Dinner at 5:30; Program at 6:30
Our usual spot- Spring Creek BBQ will be the site of a meeting scheduled over one year ago with Kevin J Weddle Ph.D, a retired professor at the U S Army War College who will speak to us on: "Lincoln's Tragic Admiral: the Life of Samuel Francis DuPont." We have been fortunate to have had many highly qualified speakers but none more qualified than Dr Weddle.
His credentials, as an educator, a writer and historian read like a Who's Who of American history educators. He is a graduate of the U S Military Academy at West Point and a 28 year veteran of the US Army whose assignments in command as well as staff positions led him all over the world. He served in Europe, the Pentagon and three recent Mid-East engagements:  Operations Desert Shield and Desert Storm and Operation Enduring Freedom. Subsequent to his Army retirement he joined the staff of the Army War College as the Deputy Dean of Academics and held the Chair of the General Maxwell D Taylor Chair in the Profession of Arms.
Dr Weddle holds masters degrees in history and civil engineering from the University of Minnesota and a Ph.D in history from Princeton University. He has written numerous articles for popular and scholarly journals. His first full length book about which he will be speaking was named the runner-up in the Theodore and Franklin Roosevelt Naval History Prize competition and was awarded the War College's excellence in teaching and writing awards.
Come early to obtain a good seat!
________________________________________________________+
Our Regular February meeting will be held on Monday, Feb 13th   as scheduled at Spring Creek BBQ, 317 E Hwy 377 at the usual time: 5:30 for dinner with the program commencing at 6:30. We are extremely fortunate to have Rick Eiserman with us. Rick is a noted Civil War scholar, author and retired U S Army officer who served our country for twenty years retiring as a Lieutenant Colonel. He is the author of numerous articles and books, a conductor of Civil War tours, and currently historian of Hood's Texas Brigade Association. The title of his talk is: "Will the Real Pvt Joe Joskins Step Forward?"
 So often we become entranced with battles and strategies we sometimes forget that they were fought by real human beings who experienced fears prior to advancing against the enemy's fortifications, being charged by lines of infantry whether it be butternut gray or union blue. We read about the peach orchard at Gettysburg or the bloody cornfield at Antietam but seldom do hear about the common soldier's thoughts prior, during, or after a battle whether it was a minor skirmish or a major one. Our speaker has uncovered a treasure trove of letters written by Pvt Joe Joskins of the 5th Texas Regmt, Hood's Texas Brigade, The letters and Rick's analysis can give us a terrific insight into the inner thoughts of this man. It is an intriguing story and a program which you need to hear.
Dues for 2017 are due! We have a great lineup of speakers scheduled; eight meetings for only $25 for a single membership; $35 for family and $100 to become a speaker sponsor. This is real bargain! We previously announced that those of you who become speakers sponsors will be entitled to participate in a drawing to receive a handmade decorative wooden box which can be used for jewelry or other trinkets. We displayed it at the January meeting. All have agreed it is beautiful and anyone would be proud to have it. See ya'll on the 13th.
Ray Ashley
__________________________________________________________
1 December 2016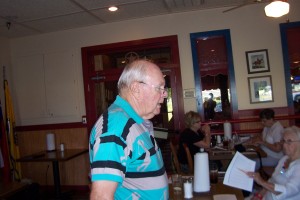 WE have recently concluded our most successful year in our short history. Membership is up, our financial condition is solid and we have an outstanding speaker's schedule planned for the year. Spring Creek BBQ has shown a continued willingness to accommodate us on the second Monday of each month for dinner at 5:30 and the program following.
Dues are currently due! Single membership is $25; Family, $35 and Speaker Sponsors, $100. Speaker sponsors are invited to a special speaker's reception at 4 pm preceding the regular meeting where they will have an opportunity to meet each speaker personally . Since we instituted this benefit which speakers seem to enjoy the give and take between themselves and members. Our membership possesses a wealth of knowledge of Civil War history which seems to be appreciated by guest authors and scholars.
This year we are introducing a benefit to all who pay their dues by January 30th. There will be a special drawing for a gift which will take place during the February meeting.
Five speakers are scheduled for the first half of 2017. All are from out of town so travel reimbursement will be much larger than it has been in the past and expenses will be higher. Some months we will be sharing expenses with the Fort Worth as well as the Dallas Roundtables which will be financially beneficial.
 You can mail your dues payable to CenTex CWRT to Gary Nelson; 3401 Sky Harbor Drive; Granbury, 76049 or bring them to the January 9th meeting. We do have the facilities to receive dues by credit card thanks to John Bowen.
Last month I attended a meeting at The Pierce Museum in Corsicana and obtained a number of complimentary passes. The museum is an outstanding museum featuring western art as well as Civil War history. They are located on the grounds of Navarro College in Corsicana. It's about a two hour drive; they are open during the week from 10 am to 4 pm as well as Saturdays 1pm to 4 pm. If any of you are interested to getting a group together to visit this outstanding museum contact me.
Speaker Schedule for the Spring 2017
January 9; John Schmutz, Author and Historian: "The Fighting Fifth". A history of the 5th Texas Regiment, Hood's Texas Brigade.
February 13: Rick Eiserman, Author and retired US Army Lt Colonel, "Will the Real PVT Joe Joskins Please Step Forward?" A mystery solved.
March 13: Edd Bearrs, Chief Historian Emeritus, National Park Service will discuss selected experiences from his years with the Park Service.
April 10: Kevin J Weddle, Professor of Military Theory and Strategy, U S Army War College, Carlisle, PA, " Military Strategies During the Civil War"
May 8: Mark Christ, Author and Outreach Director, Arkansas Heritage  Department, " The Battle of Arkansas Post, January 11, 1863 at Fort Hindman."
Ray Ashley, Chm